It's that time of year again! The highly anticipated Snowflake Summit conference is just around the corner, taking place on June 26th. As a data expert and an avid writer, I've committed to blogging daily during the Summit to keep you updated on all the exciting happenings. So, fasten your seatbelts as we embark on this exhilarating journey together!
Get ready for an unforgettable experience
This year, Snowflake Summit offers an incredible opportunity to attend in person. But wait, there's more! The organizers have truly outdone themselves by introducing live streams of the keynotes and recording most of the sessions. Gone are the days of missing out on valuable content. Whether you're attending in person or remotely, this Summit promises to be an unforgettable experience.
Logistics made simple
Let's start with the logistics. The event will take place at the magnificent Caesars Forum, so make sure not to confuse it with the Caesars Hotel, which also has a conference center. The new Conference Center is conveniently located behind the LINQ Hotel and Harrah. Need a place to stay? The LINQ is the closest hotel, ensuring you're always close to the Summit's buzz.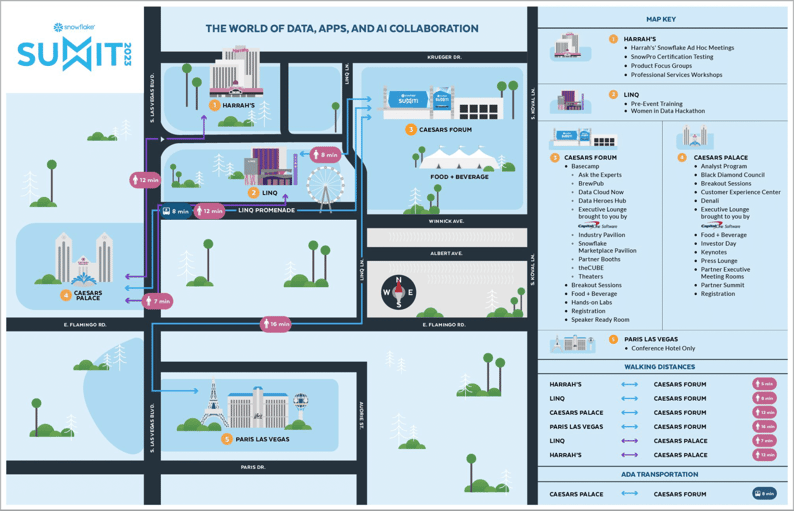 Basecamp: Your gateway to all things Summit
Get ready to be wowed at Basecamp—the central hub for all things Summit. Here, you'll find delicious food, a bustling exhibition area with booths from sponsors and Snowflake (make sure you visit us at Booth 1952-A on the Snow Row section), demo stations, and the much-awaited Dev Zone. Countless live sessions on various topics will keep you engaged and inspired. Don't miss the Ask the Expert sessions, and if you're a Snowflake Certified professional, there's even a cozy lounge where you can take a break from the buzz. This year's cool feature is an All Female Hackathon on Monday from 9 AM to 3 PM.


Exciting sessions that will blow your mind
With so many sessions to choose from, you might be wondering where to start. Fear not, for I've handpicked my top 10 favorite sessions that are an absolute must-attend:
Want to explore sessions based on difficulty level? Snowflake Summit has got you covered with categories like Advanced, Intermediate, Introductory, and Non-Technical. So, there's something for everyone!
Parties that define the Vegas experience
Now, let's talk about the legendary parties! Numerous vendors are hosting parties throughout the Summit, and while some may require an invitation, many are open to all attendees. Here are just a few to ignite your excitement:
And the list goes on! Prepare to let loose and dance the night away with fellow data enthusiasts from around the world.
Snowflake Certifications: Your path to success
Are you looking to boost your career with a Snowflake certification? Well, now is the perfect time! All Snowflake certifications will be available at a whopping 50% discount during the Summit. Take advantage of this incredible opportunity to enhance your skills and unlock new professional possibilities.
Survival tips for a memorable experience
To ensure you make the most of your Snowflake Summit adventure, here are a few survival tips:
Stay hydrated: Bring a refillable water bottle and drink lots of water throughout the day. You'll need the energy to fuel your passion for all things data.
Comfort is key: Wear comfortable shoes that can handle the miles you'll be walking. Trust me; you won't want sore feet to hinder your excitement.
Embrace the journey: Be prepared for surprises and embrace the unexpected. Each step you take at the Summit will be filled with knowledge, inspiration, and much fun.

Join us at the Snowflake Summit.
As we wrap up, remember to visit Infostrux at Booth 1952-A. We're thrilled to meet all of you at Snowflake Summit and share our passion for Data Engineering and the latest Snowflake news. Get ready for an extraordinary data-filled experience at Snowflake Summit 2023!
I'm Augusto Rosa, VP of Engineering for Infostrux Solutions. You can follow me on LinkedIn. Support my writing by subscribing to medium subscriptions and clapping on blog posts.
Subscribe to Infostrux Medium Blog at https://blog.infostrux.com for the most interesting Data Engineering and Snowflake news. Don't forget to check our Events page to know when we are in a city near you.