Our approach
Infostrux

DataPods
Multi-Competency
delivery model
A versatile data team
at your service
The DataOps engagement offered by Infostrux allows you to increase your reach within your data quickly.
By bringing together many different experts within one Pod, we can deliver more complex solutions and help your organization grow with its data.
Our scalable and flexible DataPods can adapt to any situation.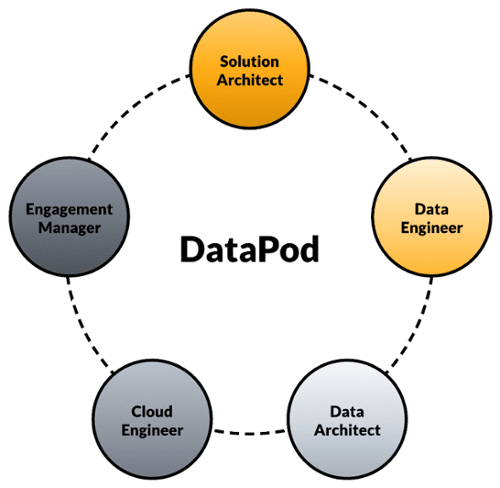 The Engagement DataPods are tailored to companies who have already dipped their toes in data infrastructure and are looking to tackle more complex challenges that require the finesse and knowledge of a dedicated Pod.

Integration of more data sources & models

The current solution doesn't answer business needs


Unclear data-related challenges
From a manual to an automated data journey
The four pillars of DataPods
Efficiency: Deliver on time.
Focus: Don't lose sight of the target.
Quality: Deliver scalable and automated solutions.
Collaboration: Integrate the customer's team and bring value together.

Keeping short and efficient loop of iterations

Easy to scale without loss of velocity

Supported by cross-functional communities
Are you ready to

leap forward

with your data?
No matter where you are in your data cloud journey or what industry you come from, our team of experts is ready to embed themselves into your existing structure, pinpoint the value in your data, and help you achieve your business goals.
True innovation with your data awaits. Are you ready?