Data Platform
Snowflake:

From Zero to Dashboard
Starting your Snowflake journey successfully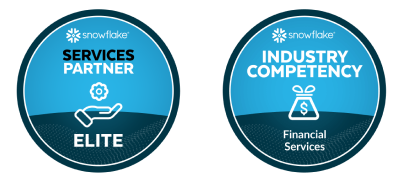 Introduction
Transform your data into valuable insights quickly by applying Infostrux's best-in-class Data Architecture, Data Engineering, Data Modeling and DataOps practices.
Our "Snowflake: From Zero to Dashboard" solution is based on principles of Modern Data Stack. It accelerates your time to value and lowers the risk of your transition to Snowflake Data Cloud to a minimum.
Our proven approach will make the journey as simple as it can be.



Build a solid data platform foundation on Snowflake by leveraging our best-in-class data architecture, data engineering and modeling practices, tailored to your needs

Extract and load data from commonly used or custom data sources and make it available for data analytics or data science

Transform the data in Snowflake into a data model designed for ad-hoc querying and dashboarding



Automate your data pipelines using proven DataOps principles

Create your first data analytics dashboard from data models in Snowflake Benefits
Lower the cost and shorten time-to-value by reusing reference architectures and pre-built components when appropriate

Lower the risk by following proven methodologies and processes

Prepare state-of-the-art data platform for future expansion

Increase the speed of development based on proper foundation and automation support

Avoid technical debt and enable maintainability by building on a well-designed solution
Activities
Review & document current and desired future state, including cloud and data architecture

Launch Snowflake account using Infostrux architecture standards and Snowflake best practices

Configure security through Snowflake RBAC role hierarchy and automated controls

Setup infrastructure, data pipeline, and data modeling automation so that the solution can grow with you

Implement data extraction and load from commonly used or custom data sources

Implement data transformations resulting in a data model that can be easily understood by business users

Setup a reporting tool of your choice and build a sample report
Are you ready to

leap forward

with your data?
No matter where you are in your data cloud journey or what industry you come from, our team of experts is ready to embed themselves into your existing structure, pinpoint the value in your data, and help you achieve your business goals.
True innovation with your data awaits. Are you ready?